In Goa, the monsoon season lasts from June to September. There is a significant probability that you will be able to discover cheaper discounts on your hotel accommodations during the monsoon season because there are fewer people on the roads during this time. Fewer people travel during the rainy season. Therefore the beaches are often less crowded than they are during the other seasons. Goa is renowned for its spectacular beaches, picturesque landscape, and capacity to reduce stress. It is situated on the coast of the Konkan. Even though lots of people like lying on the beach and getting sunburned, the monsoon is a sight to behold. In Goa, the monsoon season typically begins around the end of May and lasts through September. For anyone who prefers to avoid crowds or would like to save money, visiting the lush green parasite during the "off-season" is the best time to go. The following is a comprehensive list of the benefits of visiting Goa during the monsoon season.
A list of the watersports available in Goa during the wet season
If you've decided to travel to the land of beauty, you should find out what awaits you there. Due to the heavy rain, many beach watersports, including parasailing, become inoperable when the rivers approach their peak flow levels. However, it offers a thrilling opportunity for various river sports, including rafting, mangroves or river kayaking, monsoon cruise/ boat/ yacht rides trekking, waterfall excursions, bicycle tours, t rips to spice farms, and many more. Anyone who partakes in any water activities conducted in the backwater rivers of Goa may expect an entertaining adventure.
GOA'S MONSOON WATER SPORTS
Goa is known for its beautiful beaches and water sports activities, including during the monsoon season. Some popular water sports activities in Goa during the monsoon season include Rafting, Kayaking, Monsoon Cruise Trails etc…
It is important to note that water sports activities during the monsoon season can be affected by weather conditions, so it is always best to check with a reliable operator and ensure that all necessary safety precautions are taken.
KAYAKING IN RIVERs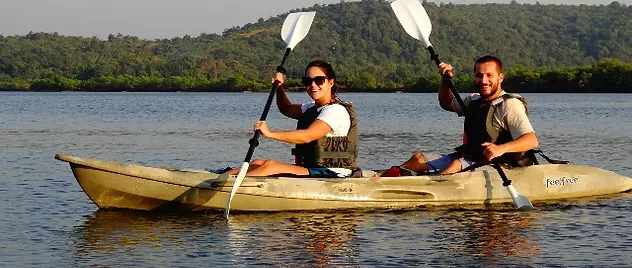 The Chapora, Zuari, Mandovi, Sal, and the Nerul River are just a few of the rivers that can be  explored by kayaks all through the year. The daily organized excursions serve as a calming and  comforting adventure for all keen to explore. The number of participants is restricted to preserve a  calm environment while kayaking in Goa. Be sure to book a pro-guided operator to assure a  safe and flawless experience. 
GOA River Rafting
River rafting is one of the most well-liked water sports during the monsoon season.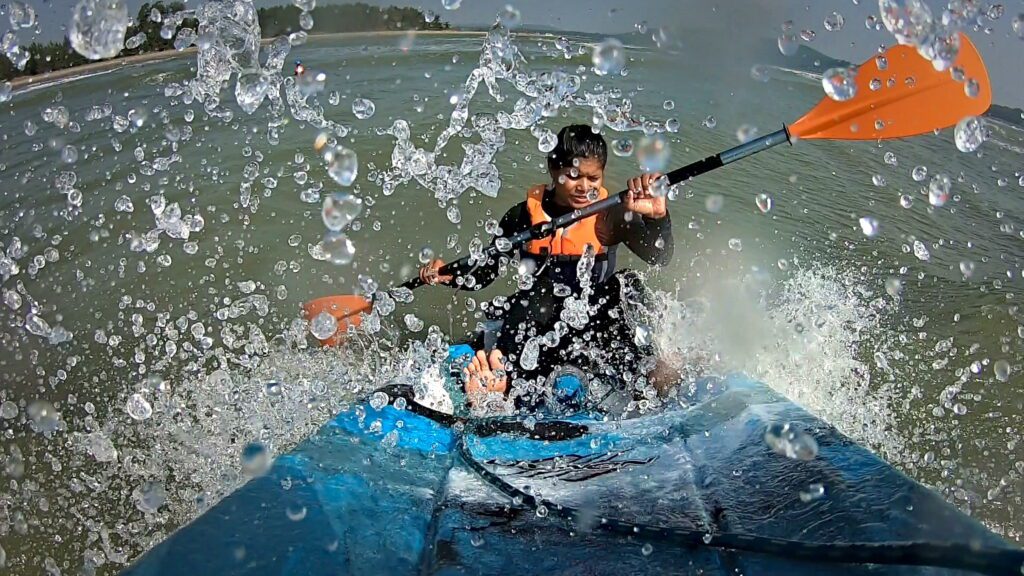 White Water Rafting:
The Mandovi River in Goa offers a great opportunity for white water rafting during the monsoon season. The rapids are generally classified as Grade II and III, making it suitable for both beginners and experienced rafters. The river Mhadei, situated in Valpoi, Sattari (north Goa), is surrounded by the Vagheri hills and Chorla ghats, all of which take you on a spectacular trip altogether, is at their peak flow during the seasonal waves. There are many time slots to pick from, and it starts at 8 a.m. and often lasts until 5 p.m. Spending an hour and a half to two hours dashing down the river, which even runs through a protected wildlife reserve, is an exhilarating experience.
Sunset Cruise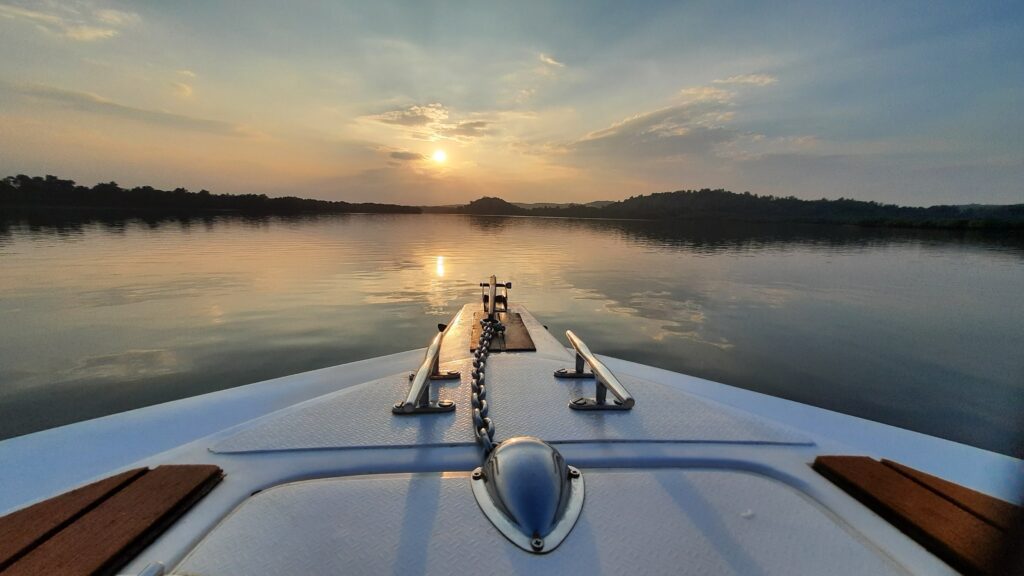 That sounds like a wonderful way to spend an evening in Goa! A sunset river cruise on a yacht or boat is a popular activity for tourists visiting the region, and for good reason. The views of the sunset over Goa's coastline are breathtaking, and the leisurely cruise down the Mandovi River provides a relaxing and romantic atmosphere. In addition to the stunning sunset views, the cruise also offers the opportunity to see some of Goa's famous landmarks and historical sites, such as Adil Shah's palace, Fort of Reis Magos, and Fort Aguada.
This can add an educational and cultural aspect to the trip, making it a well-rounded experience for visitors. Overall, a sunset river cruise is a must-do activity for anyone visiting Goa, especially for couples looking for a romantic and memorable evening. Just be sure to book with a reputable operator and check weather conditions beforehand to ensure a safe and enjoyable experience.
Bird Watching in Sunset
Adding bird watching to the sunset river cruise experience in Goa can make for a truly unique and rewarding adventure. Goa is home to a wide variety of bird species, both resident and migratory, making it a popular destination for bird watchers. As you cruise down the Mandovi River, you can keep an eye out for birds such as the Indian Cormorant, Brahminy Kite, White-bellied Sea Eagle, Osprey, Common Sandpiper, and many more. Some of these birds may be seen soaring above the river, while others can be spotted perched on trees and rocks along the riverbank.
You can also hire a guide or join a bird watching tour to enhance your bird watching experience and learn more about the different species you may encounter. A guide can point out specific species and provide interesting information about their behavior, habitat, and migration patterns. Combining bird watching with a sunset river cruise can provide a unique perspective on the beautiful landscape and wildlife of Goa. It's a great way to unwind, relax, and appreciate the natural beauty of the region while enjoying a romantic and adventurous evening.
Dudhsagar Trek
If you prefer hiking and want to experience nature in its most unadulterated state, the Dudhsagar waterfall excursion is a must-do. Continue reading if you identify with this.The most popular trekking route is short and moderately challenging, but it is still well worth your time and effort. One of India's tallest waterfalls, its beauty is captivating enough to make you forget about the outside world.
The hike should be finished by 9am with a group of friends or family following the instructions of tour guides, but if you are an experienced hiker, you might be able to accomplish it on your own.
No matter where you are, the monsoon will continue to be delightful if you like the rain. And there is no better place to enjoy the beach than along the sea for those who adore it. Goa's naturally magnificent environment is even more breathtaking during the rainy season.